USB Redirector TS Edition - USB device redirection for terminal servers
USB Redirector TS Edition allows redirecting USB devices to Terminal Server where multiple users are working concurrently. The unique technology of per-session isolation allows to use USB devices inside your RDP session only, preventing other users from accessing them!
Redirection of USB devices in multi-user environment on large Terminal Server systems
Terminal Servers with large number of users working via Remote Desktop are very often used in corporate environments. Sometimes users need to use their individual USB devices inside their RDP session. Our product USB Redirector TS Edition helps to redirect the devices into the remote session!
Resolving a problem with isolation of users' USB devices in their RDP session
Windows normally treats all USB devices as a system-wide resource. It means USB devices are visible to all users. This becomes a problem when working in multi-user environment of Terminal Server. Although Windows provides means to control access to the system objects, including devices, this is generally not enough to assign a particular device to a particular user. With the help of our new unique per-session device isolation feature, it is possible to partially solve the problem. USB Redirector can isolate users' USB devices in their RDP session, so that they are not accessible or visible by other users.
Isolation is currently supported for the following devices:
USB Mass Storage devices - USB Flash Drives, USB Hard Drives, etc.
USB HID devices - USB Signature Pads, USB Footpedals, some USB Fingerprint Readers, some USB Smart Card Readers, USB Keyboards, USB Mouses, USB Touchpads, etc.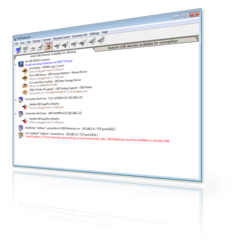 USB Redirector TS Edition works as background service
USB Redirector TS Edition works as a background service, this means you don't have to keep the app open all the time. Once you have finished configuring the program, you can safely close it. USB Redirector will continue to work even after reboot.
Redirect local USB device into a remote session in 4 steps
Step 1.

Install USB Redirector TS Edition (Workstation part) on a workstation or thin-client PC, where USB devices are physically plugged.

Step 2.

Install USB Redirector TS Edition (Server part) on the Terminal Server where you wish to connect your USB devices remotely.

Step 3.

Share a required USB device on Workstation.



Please note that shared USB device can not be used locally, because it is acquired for redirection into the remote session! To make the device available locally again, you need to unshare it.

Step 4.

Start Remote Desktop Client and log into the Terminal Server:



USB device will be connected automaticaly:



Result.

Now you can use the USB device on the remote server just like it was attached there directly:


Licensing
USB Redirector TS Edition is licensed per Terminal Server and per number of devices that users will be able to connect to the server. You should purchase a license for each of the Terminal Servers where you are going to install Server part of the USB Redirector TS Edition.
Pricing
USB Redirector TS Edition licenses start from USD 134.99, depending on the number of USB devices. There are quantity discounts if you purchase several licenses at once. Check the Purchasing page for details.
System Requirements
USB Redirector TS Edition - Workstation works on the following operating systems (both 32- and 64-bit):
Windows 11
Windows 10
Windows 8.1
Windows 8
Windows 7
Windows Vista
Windows XP (SP3 or newer)
Windows 2019 Server
Windows 2016 Server
Windows 2012 R2 Server
Windows 2012 Server
Windows 2008 R2 Server
Windows 2008 Server
Windows 2003 Server (SP1 or newer)
USB Redirector TS Edition - Server works on the following operating systems (both 32- and 64-bit):
Windows 2022 Server
Windows 2019 Server
Windows 2016 Server
Windows 2012 R2 Server
Windows 2012 Server
Windows 2008 R2 Server
Windows 2008 Server
Windows 2003 Server (SP1 or newer)
Related Products