USB Redirector Technician Edition 2.0 Beta - The New Level of Remote USB Device Servicing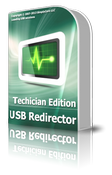 Redirect USB devices all over the world with just a few clicks.
USB Redirector Technician Edition is designed for professionals who provide remote USB device maintenance services, such as flashing, re-programming or other types of service. It redirects USB devices from customer to the technician, thus allowing to do any kind of remote servicing. Redirected device looks like it was plugged directly into technician's computer.
What's new in version 2.0:
Cloud connection for hassle-free USB redirection over Internet.
TLS 1.3 security with end-to-end encryption.
Optimized performance for redirecting through the Internet.
Download Beta (15 Days Trial) Online Manual Purchase
By downloading or installing this software, you agree to the terms of End User License Agreement.
Device Redirection Process Step-by-step
Free Trial!
We provide a FREE 15-days fully-functional trial. It is available in the Download section. It will allow you to test USB Redirector Technician Edition for free during the trial period. We strongly recommend to use this chance to make sure the program fully fits your needs before purchasing a license.
Please don't forget to read instructions above. They will help you to start.
Licensing
USB Redirector Technician Edition is licensed per computer and the number of USB devices that you wish to redirect. You should purchase a license for each technician computer where the program will be installed.
System Requirements
USB Redirector Technician Edition works on the following systems (both 32-bit and 64-bit):
Windows 10
Windows 8.1
Windows 8
Windows 7
Windows Vista
Windows XP (SP3 or newer)
Windows 2019 Server
Windows 2016 Server
Windows 2012 R2 Server
Windows 2012 Server
Windows 2008 R2 Server
Windows 2008 Server
Windows 2003 Server (SP1 or newer)