USB Redirection for Terminal Servers and Virtual Desktops
If you use Remote Desktop in your daily routine, our solution could be useful for you. We offer two products: USB Redirector RDP Edition and USB Redirector TS Edition allowing hassle-free redirection of virtually any USB device to a remote terminal server, virtual machine or any other computer where you work remotely over Remote Desktop.
Both products consist of two parts, Workstation part and Server part:
Workstation part has to be installed on a computer where USB devices are physically attached (RDP client)
Server part has to be installed on the remote computer where you remote into and where you need to use your USB devices (it acts as RDP server)
USB Redirector RDP Edition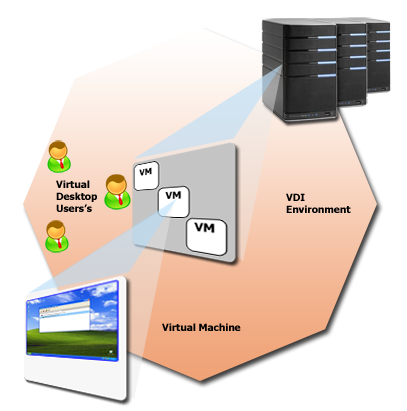 USB Redirector RDP Edition is suitable for virtual desktop (VDI) environments, where you need to redirect USB devices into remote virtual machine. Nevertheless, its use is not limited to virtual machines, the product can be used for redirecting devices to terminal server or any other computer acting as RDP server.
VDI enviroment is special in a way that each user works in a separate virtual machine. With the help of USB Redirector RDP Edition, all USB devices plugged into user's workstation can be redirected into virtual machine.
The server part of USB Redirector RDP Edition has to be installed inside virtual machine, while workstation part must be installed on the user's workstation. Once both parts are installed, you need to share your USB devices on workstation and run the Remote Desktop Client. Shared devices will be automatically redirected when remote session connects. Enjoy it!
If you connect to a terminal server with multiple concurrent users, you may need to isolate USB devices in RDP session. In this case please consider using USB Redirector TS Edition (see below).
USB Redirector TS Edition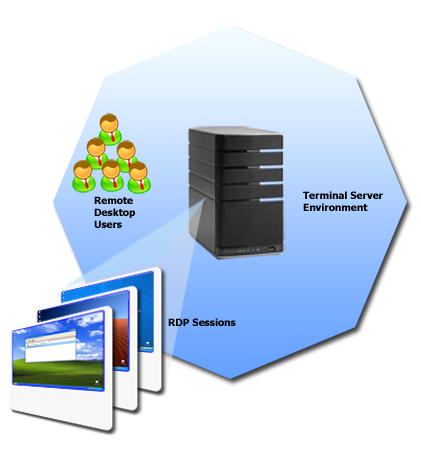 USB Redirector TS Edition allows redirecting USB devices over RDP to Terminal Server where multiple users are working concurrently. The unique technology included in this product allows isolating USB devices inside RDP session to prevent other users from accessing them. Currently we support isolation of HID, Mass Storage devices and some other specific devices.
Need More Information?
Please feel free to Contact Us with any questions, we'll be hapy to help finding the right solution for your specific use case.